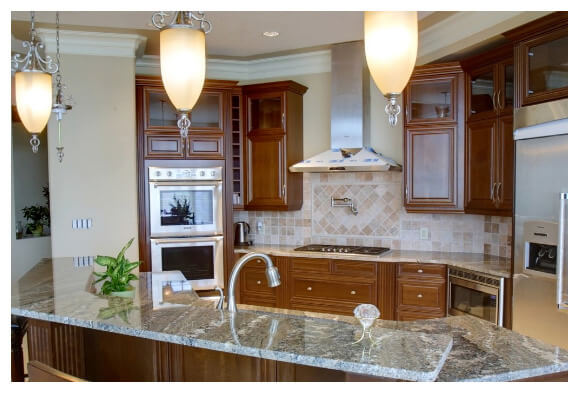 Think that your kitchen needs a new look? Well, you have a wide variety of options that open you up to add a fresh look. From a small touch to a big change, there are many things you can do with your kitchen.
Here's a quick list of kitchen makeovers you can apply inside your home.
1. Change the Cabinet Hardware
You don't have to change the material of your cabinet. Rather, something as simple as changing the knobs and handles of your cabinet can make a big difference. You can opt for something more modern and sleek to fit in with the environment of your kitchen. There are a wide range of knobs and handles available in the market that will not eat into your savings.
2. Install Under-Cabinet-Lighting
I find that many homes are missing under-cabinet-lighting. In such scenarios, the home owner has to strain their eyes so they can see the inside of a cabinet. Perhaps, you do the same? Well, under-cabinet-lighting can change all that.
LED lighting is easy to install and fits well in small places in your cabinet. This is a simple move that adds more functionality to your kitchen.
3. Add a Rug
A kitchen with a rug always looks more inviting than one without a rug. Adding a luxury rug to the kitchen is a great way of adding elegance to the room, especially if you go with something like Bazaar Velvets contemporary rugs, which are sure to make your kitchen a more classy area. However, placement is important because you don't want the rug to be in the main area of your kitchen, in case you spill something. If you have a separate area away from the main kitchen table, that's where you want to put it.
4. A New Countertop
One of the most dominating parts of your kitchen is the countertop. By simply changing it, you have something new in the kitchen. You will find all kinds of countertops in the market like quartz, granite and marble. Once you select a countertop, its installation is pretty quick. If you have a sink that goes with that style, don't forget to have licensed air conditioning & plumbing services at the ready to ensure that everything plumbing related is installed correctly.
5. Innovative Storage
If you are used to having your kitchen table cluttered with vessels and containers, you need an innovative way to store them.
– Hang your pots and pans on the wall.
– Add a magnetic strip to hang up your spoons, knifes and other such utensils.
– Wall-mounted storage to keep everyday items like cups and plates.
6. Window Dressing
If you have a window in the kitchen, change the curtains. Rather than go for the usual style, choose a curtain with a tieback or holdback style. It will definitely give your kitchen a cozier feel.
7. Fresh Paint
If you're up to it and willing to spend a whole day without cooking, you can add a fresh coat of paint. There is no better way to add freshness to the kitchen than a new coat of paint that gives your kitchen a clean feel. Ensure that you pick a light color so that your kitchen feels spacious.
Seeing the same thing over and over can be a drab, especially when you're trying to get yourself to cook. Add these changes in your kitchen and feel the difference.