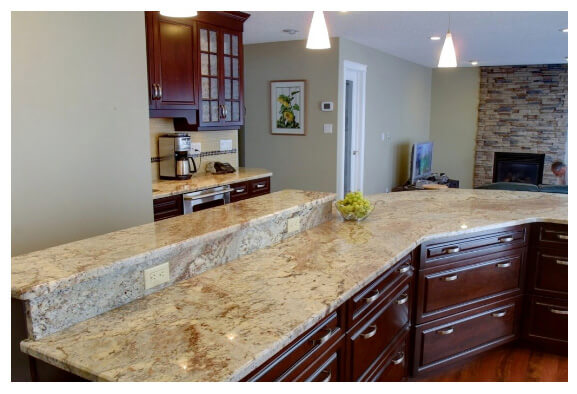 The right granite top can make your kitchen look awesomely good. The granite countertops have become the most sought after choice when it comes to adorning the kitchen tops. The main advantages being they go really well with the rest of the décor in the house and they can be had in the color of your choice. Being naturally a very hard stone, they are very strong and they last for your lifetime. After polishing the granite can be had in many finishes and the natural grains makes them stand part. There are too many options to find granite in Edmonton and make sure that you get the one which offers you the right deal. Here are some points every buyer should look for before getting thegranite countertops.
Hand finished or Machine
The granite can be finished by both hand and machine. Most of the granite companies finish the granite using the machine as it's a tie saving process. Bt if you are looking for a finish that is much more detailed and brings out the grain in a even manner, then you have to go for the hand polished granite. Though it may be time consuming but the end result is far more superior and you get much better polished edges. Many companies use wax to polish off the edges which wears over time. Make sure that the granite is polished entirely by hand without the use of wax.
Single slab or joined
Most of the granite companies join up the pieces of the granite and make one big piece. If you want a countertop that is of a single slab without any joints then you have to wait a little longer as it is tough to get granite in a single long piece. The ones which are fabricated by joining the slabs make sure they use suction-automated machines to join the granite countertops. Suction – automated machines creates the joints in a very precise manner.
Installation
Ask whether the company from where you brought the granite does the installation or not. Fitting the granite in the perfect manner is the key. Make sure that you get the help of local people as they are more experienced in installing the granite countertops and finish them in really good manner.
Thickness
The idea thickness of the granite countertops should be three centimeters. According to the recent survey, 70% of the granite which is having a three cm of thickness is less likely to break than the ones which are having thickness lower than three cms. Getting the granite directly from the distributors is always a good idea as they guarantee the thickness of the stone. They might cost you more but there will be a satisfaction in the thickness and quality of the stone. If you don't find the stone of the said thickness you can always return it back and ask for the replacement.