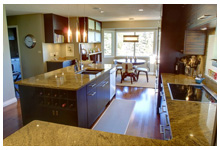 Granite kitchen countertops are the most preferred choice across all the segments. They are classier looking, have very long life and goes on well with the rest of the decor of the house. These features make them stand out from the rest of the options that are available in the market. Every countertop that is carved out from the granite stone is unique and is different from the other. You will never find two granite tops as the same as there is always a differentiating factor. The granite stones are obtained from the quarries of different locations from around the globe and every quarry has a unique pattern than the other. The colour and design that are formed over the stones in the years cannot be duplicated and this makes it really stand out. If you are getting the countertop made out from a single slab, then you need to ensure you get the project done in single slab as the other slab won't give you the design combination as same as the first one.
Another major advantage that works on the favour of the granite countertop is its ease of cleaning nature. This is why the kitchen countertop is one of the most preferredgranite uses. The granite can be cleaned using just the water and a soft cloth on the daily basis and that is enough to keep it maintained. Once in a while you can also clean the stone using normal dishwashing liquid that you use in the kitchen. You don't have to clean the stone using a special detergent. The stone gets dried up easily and is mostly resistant to the stains.
The look of the granite can put a lot more appeal to the overall look of the decor of your kitchen. With its classic design and elegant grains pattern, you can be assured that every time you step into the kitchen, the stone will take your breath away. Custom granite countertops can gel with the rest of the theme in the kitchen, making it look complete. The granite has little flecks of light stones present within the rock formation that reflects the light. This makes them glow when the light falls on them making them look even more unique.
The granite countertops are available easily and you can opt from the granite installation service to get one fixed at your kitchen. Granite is available at different prices and it makes it within the reach for all. The reason granite has such a wide price band is because it can be purchased in many forms. The expensive ones come in single big slabs and the less expensive ones come in small slabs. The prices also depends upon the colour and the design pattern of the stone. The granite is the best option if you are looking for a countertop that suits your style and taste and you can have it in the form and deign that goes with your decor.