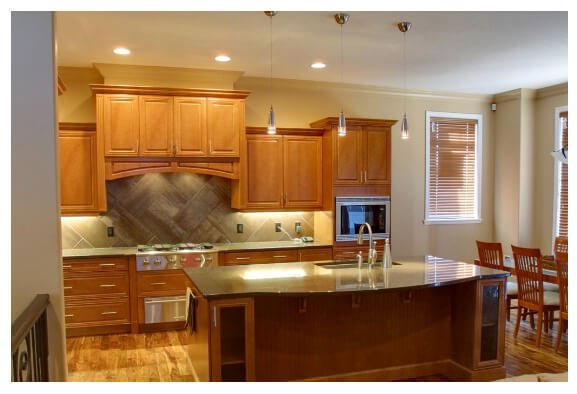 There is nothing like personalizing your kitchen by making it look the way you want. You make the space your own, and it is something you can identify with. It can work as great encouragement to help you get cooking in the kitchen. Plus, it plays a vital role in functionality. You may find that hanging vessels on the wall is a much better option as opposed to storing it inside the cabinet.
Well, here are some timeless elements your kitchen can't do without.
Cabinets
Where are you going to store your items? Whether it is a utensil, food item or pepper bottle, you need place to store them. Cabinets on the wall are the best form of storage space you can set up in the kitchen.
Plain white colored cabinets are preferred. The reason for a selecting a plain cabinet set is because it can easily fit in with your kitchen style without looking out of place.
Tiles
To bring elegance to the kitchen, you can opt for tiles rather than standard wallpaper or paint. You have a wide variety of options when it comes to selecting a tile. Subway, large pattern and diagonal tiles are the types of tiles that are growing in popularity. When it comes to style, you also have a wide range of choices that will definitely fit in with your décor and color of the kitchen environment.
Additionally, maintaining the cleanliness of tiles is much easier than paint and wallpaper, and it's much more durable.
Clean Architecture
Take a step up and look at your kitchen. How clean is the architecture? Does it look too crammed?
The arrangement of your furniture in the kitchen matters. You should aim to have a clean architecture. The most basic reason for this is simply that it makes things more accessible in your kitchen. From the table, the cabinets, the drawers, to the knife holders – Do they blend into each other? Are they crowding each other? Some people have mentioned that having the right architecture can help prevent damage to some pieces of furniture because the water source has been at the right angle to not effect said piece of furniture for a short period of time. This is why these people decide to have plumbers berkeley heights, nj or someone similar in their local area at hand to make sure they fix any water leak as soon as possible to minimize damage.
Countertop
A countertop has become a must in most kitchens. Countertops allow you to handle your food hygienically. You can place hot vessels on the countertop without worrying about damaging the table. Countertops also increase the durability of your kitchen table. With a strong countertop, having a great stink can also help. I hear that you can get some fabulous inspiration from websites similar to www.annieandoak.com/collections/bocchi-farmhouse-sinks.
They come in a variety of colors so they can fit in with your kitchen décor. Granite or quartz countertops are excellent choices to pick from.
Chimney
If done right, a chimney can fit snuggly in your kitchen and add great functionality. It protects you from irritating vapors during cooking and prevents your kitchen walls and roof from turning black.
For someone who likes whipping up plenty of dishes, but also wants to maintain their kitchen well, a chimney is definitely not something to miss out on.
Just remember that if you do decide to get a chimney fitted, you will need to get it serviced and cleaned regularly by a specialist firm such as Willard Power Vac.
No matter how you set your kitchen or how you renovate it, keep these elements in mind. They add value, improve functionality and easily fit within the design and décor of your kitchen.