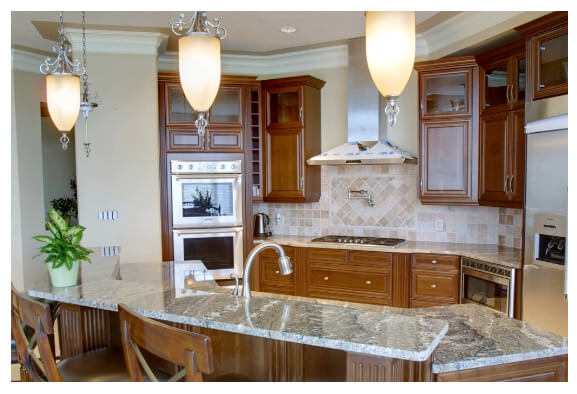 You must have read countless how-to articles on the internet providing information and instructions about what you should do and how you should do it, especially regarding your home and everything that goes on inside it. However, there are also certain things that you should refrain from doing as they can cause damage or are just not wise to go through with, especially when it comes to granite countertops. Here are a few ways that you should never resort to while cleaning your granite countertop.
1. Don't Use Bleach:
Bleaches have been portrayed to be the ultimate cleaning agents for anything around the household, but that does not stand true for granite countertops. Bleach can cause the sealer to be stripped off of the granite, which can lead to a deterioration of the quality of the granite and make it vulnerable to stains and scratches. Also, using bleach will take away the shine of your countertop, and that will make it look much less attractive.
2. Don't Use Ammonia:
Not unlike bleach, ammonia is also commonly used to clean around the house. However, using ammonia as a cleaning agent is not a good idea for granite countertops because it can strip the granite of its sealer, rendering it susceptible to damage. Also, ammonia dulls the quality of the granite, and causes the stone to etch.
3. Keep Vinegar Away:
Vinegar is the most common ingredient in homemade cleaning recipes as it contains acidic properties that make it an effective cleaning agent. Much like other harmful chemicals, vinegar can also cause a lot of damage to granite by seeping in and destroying the sealer. In case you spill anything that contains vinegar or lemon juice onto the counter, then it is imperative that you clean it up immediately with granite-friendly cleaning products such as baking soda and water.
4. Harsh Chemicals are a No-No:
Harsh and abrasive cleaners are exceedingly unfavorable for your granite countertop. The sealer tends to wear off over time if it is scrubbed with store-bought cleaners or harsh chemicals. In order to maintain the durability and attractive appearance of your countertop, it is essential for you to maintain it using the right materials. Baking soda, soap, and water are the friendliest methods of making your granite countertops sparkle and seem as good as new.
Now that you know how not to try to take care of your countertops, keep these points in mind the next time you spill something onto the stone. But if the damage has already been done, you still have nothing to worry about. K&J'S Granite specialize in this area, and once contacted, will immediately send someone over to take a look at your countertop and get it repaired in the shortest time.