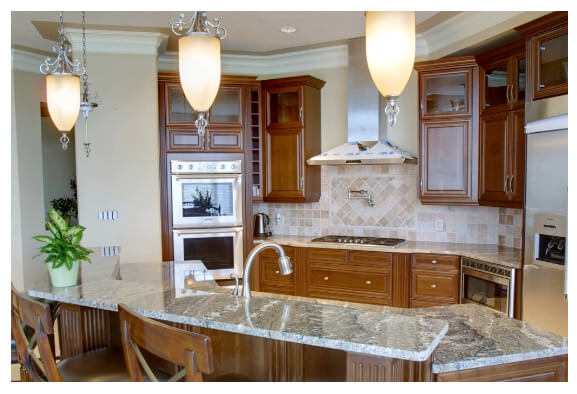 When it comes to kitchen renovations, granite countertops are the most suggested stone of choice by the interior designers. But do you know that which cut of granite is going to suit your kitchen the best? Well, probably not. Before you are out in the market to select the granite of your choice, you must know how you want it to function in your kitchen. The modern granite countertops Edmonton are available in variety of choices and you can select the one that suits your need the best.
Complementary Colour Options
This is probably the most important choice that you have to make while finalizing the granite. Colour of the granite plays a vital role and you must select the one that goes best with the rest of the theme you have in house. Edmonton granite companies offer granite in several choices and you get an opportunity to select the one that blends in perfectly with the other features that you have already incorporated in the kitchen. If you are looking for a kitchen remodelling, then you can match up the stone with the new cabinets and kitchen options in variety of new ways. If you have decided to include the granite stone for the first time in your kitchen, then you must select a colour that blends in perfectly. Many people have design options in the kitchen and the stone must look like an extension of it. Accordingly, you will be able to select the cut that goes with the design theme of the kitchen. The point here is to invest in a cut that brings out the beauty of the granite in a best possible way.
Considering the Pattern
Another important thing that you need to consider before you finalize the granite is the cut. Many homeowners are not aware of the fat that a cut plays a vital role in the beauty of the granite and if you have selected a one that goes best with the pattern you have chosen, it is sure to make your kitchen look awesome. There are many cut patterns available with the granite and they are broken down to three main types – Solid, Marbled and Specked patterns. Before you select the cut for the granite, you need to consider the size and the dimension of the space you have for the countertop.
Colours and cuts of the stone plays a vital role in defining the kitchen and they may make the kitchen look small, if you have not chosen the right colour and pattern. There are many patterns of granite available with Edmonton granite companies and you can use them in variety of ways to make a roomy appearance. You may have seen many kitchens with the patterns that make them look long than they actually are. The complex patterns of the granite when carefully chosen, also helps to add a sense of depth and give your kitchen unique dimensions.