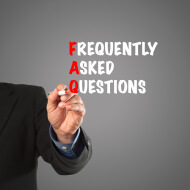 Modern granite countertops are the best thing for the use in kitchen as they offer you many choices when it comes to selecting the designs and patterns. If you are replacing your old countertop or if you are making the kitchen from scratch, the granite is probably the best option to go for. They are long lasting and offer you best protection against dents and scratches. However, many owners have certain set of questions about this stone and in this article, we are going to provide you answers to the most frequently asked questions on the granite stone.
1. Where The Granite Stone Comes From?
Granite is a completely natural stone and it is not manufactured. It is obtained from the deepest layers of the earth where manufacturers have to probe in the surface in order to get the granite stone. The granite is formed by the process that might have taken thousands of years. During the formation process, the liquid magma is shifted in the other layers of the rocks and as it cools down, the solid remain that is formed is the granite stone.
2. What are my choices?
Well you have many choices to choose from when it comes to selecting the granite stone of your choice. There are many ways in which the granite stone is finished and this offers you variety of choices. The most common method is the polished method as it gives the granite a unique shine at the surface. This gives your kitchen a very elegant look and brings out the depths of the colours at the surface. As you also have the choice to choose the patterns on the stone along with the colours, you can select the kind of polish you want. Modern granite countertops are also available with the honed finish that offers you industrial theme. If you are looking for more options, always be sure to ask your countertop retailer for it.
3. How to Maintain a Granite Countertop?
The best way to make sure that your granite countertop is maintained all the time is to get it sealed by a professional. Modern granite countertops have a porous surface that needs to be sealed in order to save those spills and scratches. When you get the granite sealed, all you have to do is to wipe any spills on the surface with a soft cloth and you will be done. Avoid using cleaning chemicals on the surface of the granite and use damp soft cloth to clean the surface on regular basis.
4. What is the life I can expect?
Rest assured, the modern granite countertops are going to last you for lifetime. The granite stone that you have on the countertop is already hundreds of year old. The stone can withstand extreme temperatures, and is resistant to dents and scratches; you also don't have to worry about getting it chipped. You can do just about anything on the granite countertop without getting worried.