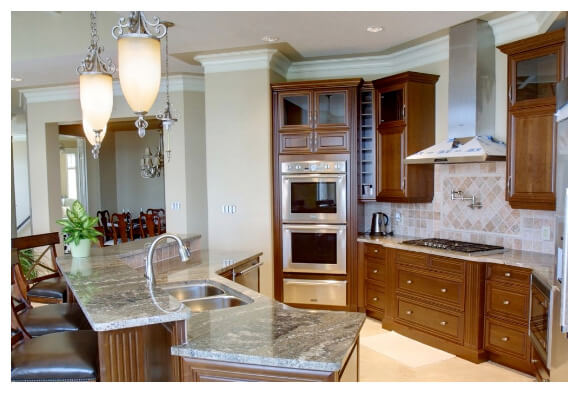 Every year brings in new design elements in the kitchen. If you're interested in updating or renovating your kitchen, you need to get in the latest and most awesome kitchen design trends. It's a simple way of making sure that your kitchen and home style changes and keeps up with the times. And something else to think about is how your new kitchens design might effect your bills. A friend was suggesting that I should change my provider to make sure I get the best deal with my new kitchen and its appliances. Simply Switch got my friend a great deal but I digress.
So what are the top kitchen trends of 2015?
White Kitchen Cabinets
White cabinets along with a colorful kitchen are a rising trend. These cabinets usually have a rich stain. If your white cabinets are too plain for your tastes, you can have a single outlying colored line on your cabinet.
Instead of replacing your cabinet set, which may be too expensive, you can opt to reface your kitchen cabinets to give the white color. This goes with the trend of a minimalist design, plus white can fit in with any color in your kitchen.
Glass Backsplashes
More and more homeowners are choosing glass tile backsplashes over stone or standard backsplashes. There are so many kitchen backsplash designs about, but the reason for growing popularity of glass tile backsplashes is that standard or stone backsplashes have been done to death. Plus, glass backsplashes definitely improves the elegance of a person's kitchen.
Metallic Fixtures
Stainless steel is the standard kitchen fixture for your taps. This is another design element that has been done to death. You can opt for metallic fixtures that have a nickel or chrome finish. This would be a great addition to your kitchen taps, or maybe you would consider getting a kitchen faucet. This adds a much needed variation in your kitchen. It is aesthetically pleasing and adds class.
Open Floor Plans
Probably the biggest trend seen in the development of the kitchen is the changes in the kitchen space. Change in the kitchen space also alters the functionality of the kitchen dramatically. Kitchens are growing larger and being combined with the living room and dining room. This creates a more relaxed space for the home owner where he can fluidly move in and out of the kitchen. This becomes even more beneficial when the homeowner has guests. This way, he does not have to stay apart from the guests in the living room.
Neutral Color Patterns
Natural and soft color palettes that easily fit in well with a kitchen atmosphere are becoming popular. Gold, green and blue are the common neutral color patterns that have become popular. This is a change from homes that usually have stark white color paint.
Install a Countertop
Countertops are slowly becoming the norm in a kitchen. Countertop makes it easier to operate the kitchen. They are hygienic, can handle hot utensils and improve the elegance of your kitchen.
More and more homes are becoming smart and that includes the kitchen. Appliances that work on their own and function through a schedule, or remote wifi control are becoming more common. This makes life in the kitchen easier.
Decide on the points that interest you and try them on your kitchen next time you renovate it.