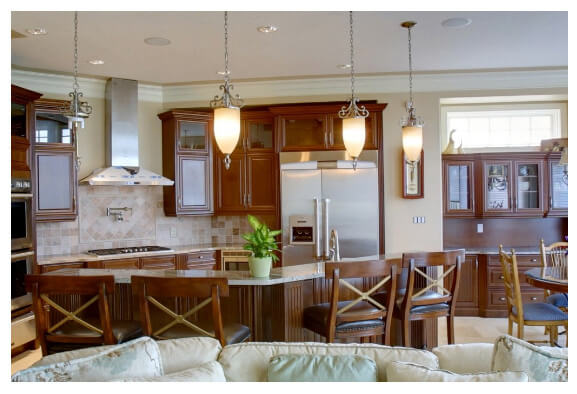 When it comes to the kitchen countertops, the granite is the most sought after choice in the market. They are classier looking, have very long life and goes on well with the rest of the decor of the house. These features make them stand out from the rest of the options that are available in the kitchen countertops Edmonton market. Due to its elegant design and timeless grains, it stands out from the rest of the stone options and gives you a finish that cannot be equalled by any other stone option. The elegant finish goes with the rest of the decor of the house and you get a kitchen that not only looks good, but also gives you a sense of rich feeling every time you look at it. Every granite kitchen countertop that is carved out from the granite stone is unique and is different from the other. You will never find two granite tops as the same as there is always a differentiating factor.
The colour and design that are formed over the stones in the years cannot be duplicated and this makes it really stand out. If you have a kitchen that has a very big slab, then you are sure to attract many eyes with the granite. Here are some of the major advantages.
1. Style
Granite has a timeless style and it will keep looking like new for years to come. The look of the granite can put a lot more appeal to the overall look of the decor of your kitchen. Every piece of granite is always different from the other due to its grains formations and two granite designs are never the same. With its classic design and elegant grains pattern, you can be assured that every time you step into the kitchen, the stone will take your breath away. Be it pieces of stones or the single slab, the elegance it has on offer cannot be equalled by any other stone.
2. Easy To Clean And Maintain
Another major advantage that works on the favour of the granite countertop is its ease of cleaning nature. They are really very easy to maintain and they are resistant to stains and spills. This is why the kitchen countertop is one of the most preferred granite uses. For the regular cleaning if the countertop, you don't need to use any special liquid. You can use a soft damp cloth to wipe off the surface after every meal. That would be enough to keep the stone looking like new all the time. All you have to do is to make sure that you are getting the surface of the granite sealed twice a year to ensure that it is safe from the regular wear and tear. Over the period of time with the regular sealing, it is going to make the surface more string and they last you as long as the life of the house.