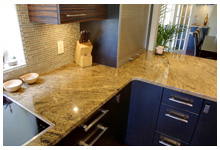 Once you get the granite of your choice, begins the whole installation process on the countertop of your kitchen. The project starts with the template of the stone, fabrication of the essential components, joining and the installation. The whole granite installation occurs on the single day. The professionals for the installation can be contacted at any granite installation service in Edmonton.
Process
The work starts by placing the granite stone on the countertop to take the measurements of the edges. The template of the stone is done by clearing the objects at the kitchen. The sink and the taps are check for the fitment; cabinets are reviewed for proper fit and adjustments. The overhang of the countertop is checked at the edges and the overall placement of the granite is measured. After taking the details, the stone is moved back from the top and all the arrangements for the fitment of stone are made. The modern granite countertops Edmonton requires a seamless fit and once they are done, they last for years without any maintenance.
Fabrication
Before the fabrication process make sure that the stone you are about to fit is perfect. If you want the designs to be in specific order, then you can choose to have a single slab or in joints. The granite Edmonton can be cut to order to get the desired shapes and designs. If the installation is for the first time, then ensure that the stone ispolished and cut according to the specifications.
New or old placement
If you already have a stone on the countertop and you want a replacement, then you need to go through a tearing countertop job. First the old countertop will be taken out and the surface will be cleaned and prepared for the new granite installation. It is recommended to use new plumbing and sink with the new countertop.
Installation
The installation process takes place once the area is cleared and prepared for the installation of the granite. The process usually will last for the whole day. Check the edges of the stone and make sure it matches with the shape of the cabinets. Ensure that the cutout for the plumbing and the sink is done after taking all the required measurements. After the stone is places, it is glued to the surface and should be allowed to set for 24 hours. Prior to the installation, the stone is checked for the defects and the polishing.
Completion
After the installation is done, the installation of the sink and the necessary plumbing will take place. The fitment of the taps, the alignment of the cabinet drawers and covers will be done. After the final inspection, the granite will be cleaned with the cleaning solution to get rid of all the dirt and grime that might have accumulated on the top during the installation process.