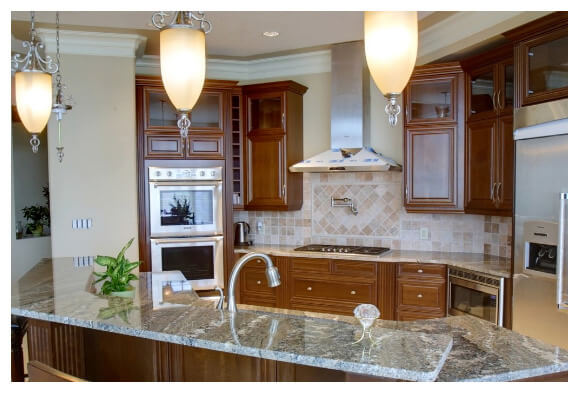 There are many choices in kitchen countertops Edmonton and you can get the one that goes with your needs and taste. Granite is extremely durable and this makes them the perfect choice for the use in the kitchen. When you get the polished granite for the kitchen countertop, you get a slab that was crafted by the hands of time by nature. Granite is difficult to scratch and you can do all of your daily kitchen chores directly on the top of the stone without worrying to put a dent on the surface of it. Granite can withstand a lot of abuse and temperatures. Granite can withstand burning and it won't get cracked or discoloured if it is exposed to direct high temperatures. The polished surface of granite maintains its sheen that never gets dull with the passage of time.
They are really very easy to maintain and they are resistant to stains and spills. You just have to make sure that you are getting them sealed with the professionals in order to make them safe from daily wear and tear. Sealing the granite countertop is an easy process and you don't have to spend loads of time getting it done. It not only protects the granite in the long run, but also makes it a lot easier to clean on day to day basis. The surface of the granite gets a clear coat in the sealing process and thus it fills up all the minor pores that may absorb the spills or stains. Make sure that you are cleaning the granite with a damp cloth after the cooking in the kitchen to keep the surface shining all the time. If you spill something over the granite, then all you have to do is to wipe it off using a soft cloth and water and you will be done with it. For the regular cleaning if the countertop, you don't need to use any special liquid. You can use the regular dishwashing liquid from the kitchen to clean the surface of it.
All these qualities of granite make them the perfect choice for the use in the kitchen. After installing the granite countertop, you just have to make sure that you are taking the right care of them from time to time and they will last you more than the life of house itself. Avoid using harsh chemicals and soap solutions for the cleaning of the surface. You can get the right cleaning liquid from any kitchen countertops Edmonton shop that will help you to get rid of the excess dirt and grimes. Always ensure that you are gentle while cleaning the surface of the granite and don't use chemicals that have acidic base as they will damage the sealing of the stone. You need to take care of the sealing as it not only protects the surface, but also helps it shining like new.