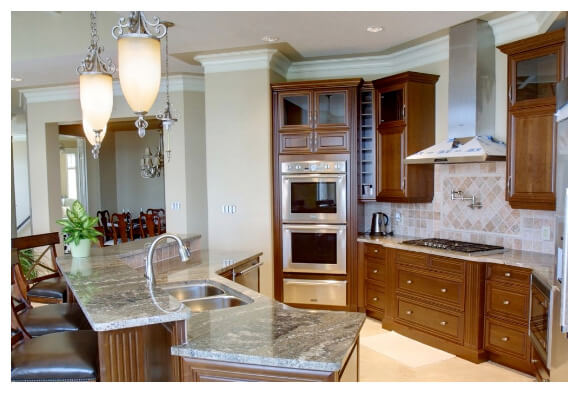 Are you in the market looking for a replacement of the old countertop stone that you have in your kitchen? Before you go ahead and make the choice, you must take a look at two of the most interesting stone options that you have in the market right now. Granite and quartz countertops Edmonton are the best stone options you could lay your hands on when it comes to kitchen countertops. Although, there are many other options to adorn the countertop of the kitchen and people also opt for many cheap choices that help to save the money at the time of the purchase, but they end up replacing them in year or two because they don't offer them the right style nor they are easy to maintain on day to day basis.
1. Appearance
For many home owners, the pattern of the stone they choose for the countertop matters a lot and they want a stone that matches with the rest of the decor of the house. Granite is available in a variety of background colours including, black, white and other earth tones and if you are going to compare it with the quartz countertops Edmonton then you may find it more appealing. However, this doesn't mean that the quartz is losing in the competition, as it is also available in a wide variety of colours and shades, including blue, green, or orange. These striking shades differentiate this material from natural stone.
2. Cost
If you are someone who is on a budget and looking for a countertop choice that gives you a lot of appeal while saving you for spending too much, then the quartz countertops Edmonton are possibly the best choice for you. Since, quartz is non-porous, you don't need to seal or wax it. This material is highly resistant to stain, scratch and acids. You don't have to spend a lot on getting them sealed from time to time and if you are going to choose the granite stone, then you have to get them sealed on periodic basis.
3. Curb appeal and the wow factor
There is no denying the fact that the granite stone has always been the most favoured choice of people who want class and style in their house. If you are planning to sale your house after a few years, then you must go for granite material. It is the material that can add the"wow factor" to your house. This is going to help you a lot in getting the right price as people always look for the kitchen in terms of appeal and elegance.
Before you choose the right stone option for your house, Make sure you choose the material that best suits your requirements and budget. Always be sure to call in the professional to get them installed in a right manner. They will guide you in the selection process and help you transform your dream into reality.