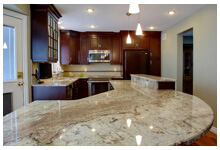 Remodelling a kitchen can be a long term job and before you start the project, you need to make sure that you are choosing the right kitchen countertop that is going to give you an amazing look for the years to come. When it comes to kitchen remodelling, granite is the obvious choice for many people, due to its fascinating looks and durability. However, granite might not be in the budget for many, as it is very expensive and if you are looking for a single slab of stone for the countertop, then it is going to cost you a lot. The best option in this case to look for is the quartz countertops. The markets for quartz countertops Edmonton has grown a lot in the last few years and now you have many choices to choose from. Here are some of the benefits of quartz countertops.
1. Cost
The first reason why you must choose a quartz countertop is the price. If you have a tight budget for the remodelling, then it is the best value for money kitchen countertop. It is far less expensive than the exotic granite and if your kitchen has a lot of countertop space, then you can easily go for the quartz, as it offers you look as good as granite at an affordable price.
2. Appearance
As quartz is manufactured, it can be controlled to have an appearance as you like. This allows the manufacture to induce the design elements of your choice and the slabs can be produced with the colours, patterns and texture that you might want in your kitchen.
3. Strength
Quartz countertops are manufactured with 92% of the natural quartz stone with the 7% of the resin binder. This makes them extremely tough and durable and it makes it stronger than granite and marble. The slab can be had with the same thickness as granite or marble and can be shaped in the pattern of your liking.
4. Non porous
Quartz surface is non porous and this makes it resistant to stains and patches. As the channels between the minerals of the quartz have no tiny capillaries, you can be tension free, if you spill wine or any other eatables on the top. Quartz never requires any sealing and this makes it much easier to maintain and clean than granite and marble.
5. Hygienic
Quartz stones are manufactured to be hygienic and it reduces the bacteria growth on the surface. This makes the quartz countertop very safe in the use as a kitchen countertop and you don't have to worry even if you are keeping the eatables directly on the surface. Before getting the quartz stone, make sure that is certified by National Sanitation Foundation as a safe countertop
6. Maintenance
Quartz is maintenance free stone and you don't have to worry about getting it sealed. All you have to do is to wipe it using a damp cloth and it will keep on shining like new. It doesn't require any routine maintenance from time to time.