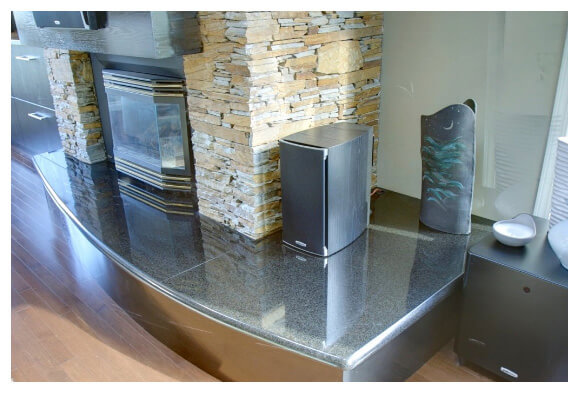 The choices you make when designing your home reflect your personal style, but also contribute to set the tone for each room that will serve as the backdrop for many memories.  You want to start by creating the individual personalities of each space in the home, and that considers the color of the walls, the style of lighting, and the hang of your curtains.  Of course, you can't underestimate the importance of your granite countertops as well for their ability to help create the feeling in the room.
Homeowners in Edmonton continue to choose granite as a key element of their home design not only for its durability and for its intrinsic value as a feature that increases the value of their home.  Instead, granite continues to be a leading choice for countertops because of its versatility to suit any space with the incorporation of different colors, textures and hues for the exact fit on any home design project.
Sure, you've seen the impact that granite can make both in residential and commercial settings, but do you know what shade of granite is your perfect fit?  With more than a dozen options to choose from, you may first want to consider what atmosphere you are trying to create in your kitchens and bathrooms where granite will be a key component of your design.
Brown and beige
There are numerous choices when you look at brown and beige hues of granite countertops.  This is a popular choice with homeowners as these earth tones are considered to create a feeling of warmth and connection.  These earth tones encourage people to get comfortable and be open with one another.  Combine the glow of a Amarelo Ouro Brasil or a Brown Caledonia with some comfortable chairs that encourage your guests to settle in for a visit and you may be well on your way to creating your favorite room in the house.  Brown and beige are complimented by most neutral colors that you may choose for your walls for a space that may be appealing to incoming buyers as well should your home ever find itself on the market.
White
When you consider the importance of cleanliness and hygiene in both the kitchen and washroom, you will understand why white varieties of granite have become so popular in many environments.  When you consider all of the activities involved with either of those room's surfaces, having the added peace of mind that you are working on a surface free of contaminants is very re-assuring.  Varieties of granite such as Persia Pearl or Bianca Romano achieve this goal and still convey a stunning appearance of class.  White does convey a very classical appeal that harkens back to the stately days of the Roman Empire when elaborate stone construction was reserved for the most elegant of dwellings.
Greens and Blues
Blues and greens individually each are believed to have their own affect on how you feel.  While blue is considered to be a very calming color, green is believed to be the color of concentration.  If you relieve stress by spending time in the kitchen, maybe challenging yourself with new recipes or other creations, these are the hues that you may want to consider.  Emerald Pearl of Victoria Regia may get the job done.  An added benefit to these color options is that due to the texture of most stone in these colors, blues and greens may also contribute to a very nautical or Mediterranean feel to your space that can be accented well through the careful selection of other design elements.
Blacks and Greys
Few design elements that you can introduce to your home carry the strong presence that you will experience with black granite.  The sophistication of Black Pearl or other dark variety of stone is second to none.  Black stone compliments most any other cabinetry and design you want to incorporate in the room and can stand out as an accent or as the centre piece that pulls the whole space together.  Blacks and greys factor in very well to modern contemporary design and convey confidence and achievement.
What Will Your Countertops Say About You?
Do you want your counters to steal the show when guests come to visit, or merely to accent the other design elements that you have incorporated into your home decor?  How you use granite to complete your overall design is a decision that is as individual as each homeowner.  If you're not sure, we encourage you to visit our K & J's Custom Granite photo gallery of completed home projects and see if there is a design combination that jumps out at you for your project.
With our experience in delivering solutions that you're sure to love, we have helped many families to bring their ideas to life from classical to contemporary and we are confident that we can achieve the look and feel that you want for your home.  We invite you to come in and see us to discuss the popular trends, common combinations and also some of the most unique designs that we have installed for clients to meet their exact specifications.
You can start right now by visiting our website at kjgranite.com and reviewing our design and product galleries as you start to design your ideal kitchen or bathroom then let's talk about how best to develop your idea from concept to a room that you can't wait to show off to everyone you know.  If you're in Edmonton and granite is the home design solution you're looking for, your first stop should be K & J's Custom Granite.